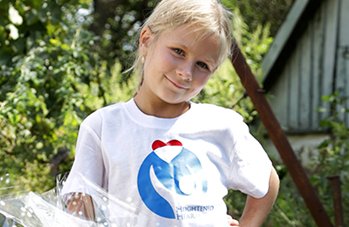 First School Supplies Baskets Are A Success
The Heightened Hearts Foundation is answering the call for help, one child and one family at a time. Due to war and rising tensions with the Soviet Union, the country of Ukraine is in a state of chaos and political upheaval—a place where 14 million of its citizens now live in extreme poverty.
To address some of the economic deficiencies in Ukraine, the Heightened Hearts Foundation recently conducted its first annual "Back-to-School Basket" giveaway, a charitable program in which dozens of children received much-needed school supplies to continue with their education. This small gesture of love and goodwill helped over 50 families in one of the poorest regions of the country; however much more assistance is needed if we are to reach our goal of at least tripling the amount of baskets given away during next year's event.
Ukraine is one of the largest countries in Eastern Europe and also one of the poorest, with children often bearing the brunt of chronic poverty. Living standards have declined dramatically over the past decade and many families – particularly those with single parents – are living below the poverty line.
One of these unfortunate children is Sasha, a 7-year old girl who lives in Ukraine with her brother, mother and a grandmother who is gravely ill. Together they share a one-bedroom shack, with barely enough resources to eat, let alone send the children to school with the proper supplies.
Fortunately for the family, Sasha and her brother were among the lucky few who benefited from the Heightened Hearts Foundation's "Back-to-School Basket" giveaway, allowing them to begin the new school year with all the supplies they need to succeed and the renewed confidence that goes along with them.
In addition to providing school supplies to several children just like Sasha, volunteers from the Heightened Hearts Foundation also offered much needed assistance in the form of:
Clothing
Food
Medical Assistance and Supplies; and
Fixing homes
In the near future we also hope to build our first "Global Relief Center" in Ukraine to help bring hope and educational/vocational services to children and their families. Among the many services we plan to offer at this center are:
Food Banks
Free (Gently Used) Clothing
Literacy/Reading Courses
Basic Computer Courses
Sewing Classes
Nutrition and Dietary Services
Job Readiness Courses
Reading and Writing Workshops
Youth Mentorship
Music Courses
Alcohol/Drug Abuse Counseling
And much, much more…
The Heightened Hearts Foundation's Global Relief Center will be non-denominational and thus open to everyone who wants to participate.
How Can I Help?
There are many ways the public can help the Heightened Hearts Foundation in its mission to bring about much-needed relief for the people in Ukraine. Two of the most beneficial ways include:
Give
Perhaps the easiest way to combat the suffering in Ukraine (and other parts of the world) is through a charitable donation. You can rest assured that every penny you give will go to benefit the people we aim to serve. Checks should be made out to the "Heightened Hearts Foundation," and mailed to the following address:
Heightened Hearts Foundation
1521 Alton Road, Suite 819
Miami Beach, Florida 33139
Serve
New volunteers are always welcomed by the Heightened Hearts Foundation to assist with our domestic and international relief efforts. If you would like to serve as a volunteer for one or more of our projects, feel free to contact us by mail at the address above or via email—volunteer@heightenedhearts.org.
With your assistance we can help end the needless suffering, both in Ukraine and in other less-developed regions of the world.