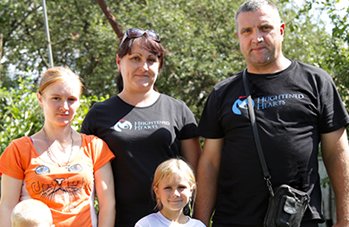 The Heightened Hearts Foundation: Leading the Charge towards Ukrainian Recovery
Founders and volunteers from the Heightened Hearts Foundation, a non-profit agency based in Miami Beach Florida, recently traveled to Ukraine to aid some of the poorest and most disadvantaged families in the region. Now the organization is on a mission to help even more people in this struggling country—a country that, according to a United Nations' spokesperson, "has a widespread poverty crisis that desperately needs to be addressed."
Poverty in Ukraine: A National Crisis
Ukraine, which gained independence from the Soviet Union in 1991, is one of the largest countries in Europe. The region is perhaps best known for its fertile farm and agricultural land, which accounts for nearly 70 percent of its total land area. However, despite its favorable geographic location, recent statistics indicate that at least 25 percent of Ukraine's population, including thousands of young children, lives in extreme poverty.
According to renowned journalist Terry Hallman, an expert on Ukrainian life, the poverty problem in the country "is a numerical measure of income, one that fluctuates from year to year and has little to do with the actual quality of life of the country's citizens." In talking with hundreds of people in Ukraine, including many in the relatively higher income city of Kharkiv, Hallman discovered that the common opinion of the people indicates "a poverty level that may surpass 50 percent or more of the total population," meaning that some 14-24 million people in Ukraine do not have the necessary financial resources to adequately survive, much less thrive.
The Heightened Hearts Foundation: Answering the Call in Ukraine
The Heightened Hearts Foundation, whose founders trace their roots to the country of Ukraine, has long realized the severity of the poverty problem in the country, as well as the hunger dilemma and the region's vast income inequality.
As mentioned above, recently, the Heightened Hearts Foundation conducted a mission trip to Ukraine, handing out over 50 "back-to-school" baskets to some of the country's poorest families, ensuring that dozens of disadvantaged children would begin the school year with the supplies they need to properly learn, grow, and (hopefully) use their education to assist in curbing the troubling statistics reported by government officials and journalists such as Hallman. Although the hope-building gesture of the Heightened Hearts Foundation was a step in the right direction in terms of lending assistance to the Ukrainian people, there remains much more work to do to ensure the country's population achieves and sustains an adequate quality of life.
Ukraine's Orphanages: Bursting at the Seams
The deeply troubling statistics regarding Ukrainian's poverty and hunger-stricken families is indeed cause for international alarm. What is even more troubling, however, is the percentage of the country's children now living in orphanages and other state-run facilities, simply because their families can no longer afford to properly care for them.
Newly released estimates suggest that there are now some 80,000 to 100,000 Ukrainian children now housed in these orphanages, but according to Terry Hallman, "this trend can be majorly curtailed with just a small amount of effort."
According to years of research, government officials say that approximately 90 percent of orphanage-housed children could possibly be returned to their families given a relatively small measure of financial support—support the Heightened Hearts Foundation hopes to offer through its various charitable programs, most notably its Global Relief Center.
The Heightened Hearts Foundation and Its (Proposed) Global Relief Center in Ukraine
Spokespeople from the Heightened Hearts Foundation have recently intimated their plans to build a full-service Global Relief Center in Ukraine within the next few years. The center, which will be operated through public and private donations, will offer a two-tiered approach aimed at Ukrainian recovery. As you might expect, the first tier services will focus on the immediate needs of the populace, placing a priority on housing as well as food and nutrition programs, ensuring that every visitor to the center can meet their basic, immediate needs.
The foundation's second tier services will be aimed at sustaining an adequate quality of life. These services will come in the form of programs such as:
Weekly food distribution (through a food bank-like program)
Clothing (donated by sponsors)
Medical services and supplies
Literacy/Reading Courses
Child Care (allowing working parents to have a safe place to bring their children)
Basic Computer Courses
Sewing Classes
Nutrition and Dietary Services
Job Training and Employment Readiness Courses
Reading and Writing Workshops
Youth Mentorship Programs
Peer Counseling
Music Courses
Alcohol/Drug Abuse Counseling
And much more…
These and other services will be designed to educate the populace and get people back to work so as to stabilize the struggling Ukrainian economy.
The Heightened Hearts Foundation Needs Your Help
Widespread poverty in Ukraine—and the hunger and shelter dilemmas it creates—continues to be an enormous problem in the country—a problem that may only worsen in the near future as the global economic crisis continues to grow and spread throughout Eastern Europe. It is this crisis that the Heightened Hearts Foundation hopes to stem or at least ease through its many proposed programs and services, but that will only happen with the help of generous individuals, businesses and organizations.
Ukraine definitely needs the assistance of the Heightened Hearts Foundation, an organization that not only recognizes the poverty crisis in the country, but is extremely motivated and well equipped to lend the type of help the country desperately needs. If you are an individual or business owner who would like to be part of the Ukrainian solution, there are a number of ways you can help. The Heightened Hearts is always looking for cash and supplies donations, as well as volunteers for its many domestic and international programs. To send a donation or to find out more about the organization's structure and mission, visit their website today at https://heightenedhearts.org