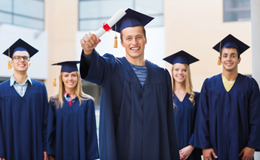 Scholarships
Education is an important part of life, and can positively impact a person's future. However, not everyone has the same opportunity for higher education. We know of many bright, high-achieving students who are not able to attend college because of financial limitations. This is why the Heightened Hearts Foundation is working not only to improve the health and well-being of children in our communities, but also to help hard-working students afford the education of their dreams.
The Heightened Hearts Foundation Scholarship is open to high school students and current college students who can demonstrate financial need. The awarded scholarship funds are paid directly to the student's school and can be used to pay for tuition, books, room and board, meal plans, and more.
Students must complete the application form below in order to be considered for financial aid. The HH Board of Directors will review scholarship applications, and qualifying applicants will have an interview scheduled with a HH representative. During the interview, the HH team member will further assess the applicant's desire for higher education, future goals, and need for assistance.
We encourage all students to apply for the Heightened Hearts Foundation Scholarship! Please fill out the contact form below to begin the application process and wait for further instruction via email.