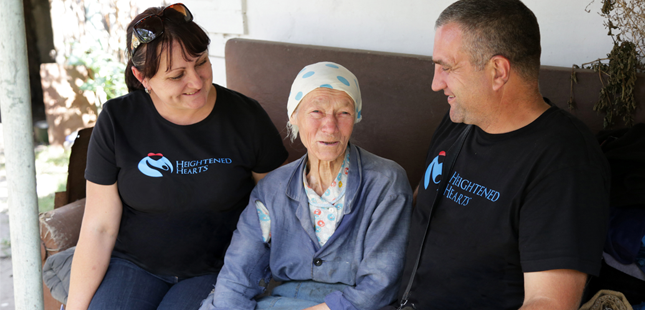 While most developed countries have programs and policies in place to assist their aging populations, seniors living in slightly less-developed regions of the world are nowhere near as lucky. To address some of these problems and obstacles, the Heightened Hearts Foundation offers sponsorship opportunities for the aging – opportunities that come in the form of the "Adopt-A-Grandparent" program.
Volunteers who take part in this vital program have the unique opportunity to support one or more elder citizens from another country, citizens who would otherwise have nobody else to care for them and or advocate for their care and well-being. The dedicated volunteers who donate their time to participate in the Heightened Hearts Foundation's "Adopt-A-Grandparent" program offer a number of services to their senior companions, which include opportunities to seek and sustain proper medical care, ensure proper nutrition, and offer critical companionship that can help ward off age-related loneliness, depression, and medical decline. In short, this very important Heightened Heart's program provides a safety net for what is now becoming one of the world's most vulnerable populations.
The "Adopt-A-Grandparent" program, in addition to the features highlighted above, offers the following support groups in which seniors can take part:
• Physical Activities.
Physical activity and exercise in seniors can help prevent certain maladies, such as arthritis, high blood pressure and more.
• Recreational pursuits.
Recreational activities, such as playing cards, solving puzzles, watching movies and partaking in special interest courses, can go a long way towards providing a better quality of life for seniors.
• And more…
With the improvement of medical knowledge and techniques, the senior population the world over is growing faster than in any point in our history. As a result, an increased number and better quality of programs is desperately needed to ensure not only the safety and security of the senior population, but also a more satisfactory quality of life. In its efforts to meet the needs of the world's elderly community, the Heightened Hearts Foundation and the staff and volunteers that make the "Adopt-A-Grandparent" program possible is bringing a measure of hope to those people whose earlier contributions made our current way of life possible.
If you'd like to help make a difference by donating to our "Adopt-A-Grandparent" program or by volunteering, you can do so by clicking the links to our donation & volunteer forms below. Be sure to specify the program you wish your donation to benefit by writing it in the notes section of the donation.
CLICK HERE to donate now
CLICK HERE to become a volunteer
If you prefer giving in a more traditional method, simply send a note with your check indicating your intended purpose or write it in the "memo" section of your check or money order.
All cash/check donations should be made out to the "Heightened Hearts Foundation" and sent to the following address:
Heightened Hearts Foundation Inc.
1521 Alton Road, Suite 819
Miami Beach, Florida 33139